NEW ! During the 13 days of the race of la Grande Odyssée VVF 2023 edition, try to win your "Super Fan" jersey, during a contest, organized on each stage start.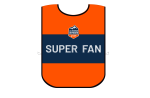 As soon as the village open, come and fill in your coupon at the animation tent, near the mascot Sitka, to take part in this exceptional competition. 
The draw will take place 30 minutes before the start of each stage, under the arch.The winner will be able to get his or her "Super Fan" jersey, and leave with an incredible souvenir of this 19th edition of la Grande Odyssée VVF.
See you from January 7th to 19th 2023 ! For all the latest news, please visit our social networks Facebook and/or Instagram.