Located in the heart of the Vercors Regional Natural Park, at an ideal altitude in a gentle & open mountain, Villard de Lans, historically called "Le Villard", meaning the biggest village in the area, is still today the major pole of attraction of the Vercors.
It is particularly appreciated for :
ITS LARGE-SCALE OFFER
For more than a century, this climatic resort known for its "air and milk cures" has earned it the nickname of Children's Paradise, a tradition that continues. Its leisure facilities and services (health, transport, banking…), worthy of the greatest destinations, guarantee an easy stay for holidaymakers.
ITS YEAR-ROUND LIFE
Town of 4,000 inhabitants with its pedestrian streets, its market, its shops, its wave pool, its indoor skating rink, its casino, its bowling alley, its exceptional tobogganing hill, its heritage museum and all the activities that are practiced during the 4 seasons.
ITS LIVELY AND FRIENDLY ATMOSPHERE
A multitude of animations and events punctuate the life of the village. Sports, artistic, cultural or musical events.
FACILE ITS EASY ACCESS
A few kilometers from major cities such as Grenoble (40 min), Lyon (1h30) or Valence (1h15) by road, but also accessible by public transport…
2 villages… 1 station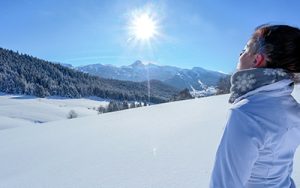 Geographically linked by only 6 km, Villard de Lans and Corrençon en Vercors are two typical and warm villages which will seduce you by the complementarity of their offers.
The two villages have linked their ski slopes in order to offer an infinite variety of alpine and nordic itineraries for all levels of practice. The 250 km of jointly developed slopes make Villard de Lans/Corrençon one of the largest alpine/nordic areas in Europe.
The sense of hospitality and the authenticity of the mountain people will make you feel at home in a few hours. A thousand miles away from noisy resorts… Here, nothing is overdone. Here, serenity, nature and relaxation are the key words!
See you on January 19th, for stage 11 of the 19th edition of La Grande Odyssée VVF 2023 !