The station of Les Karellis is nestled in the Maurienne valley in Savoie on the commune of Montricher Albanne. It will host La Grande Odyssée VVF during the 5th stage on Thursday, January 12, 2023.
Through this article, dive into the heart of Les Karellis: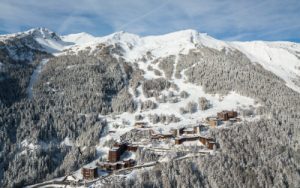 Perched at an altitude of 1600 meters, its ski area culminates at 2520m. Created in 1975, its economic structure, unique in Europe, will make it possible to offer an integrated, modern and pedestrian station. Pierre Lainé, specialist in social tourism, will offer a complete public service delegation and will design a unique economic model. Thus the Renouveau Vacances association will be the delegate of all the services of the resort. A cooperative society will be created to manage all the shops, the collective services, the tourist office and the accommodation of seasonal workers within the same establishment. Governance will be facilitated, simplified and direct. The 6 establishments (in holiday villages), all ski-in ski-out, will offer accommodation and catering services mainly dedicated to the family with, in particular, children's clubs in each establishment and a "shared teen club" service.
In winter and on the slopes, a 60 km north-facing ski area offers almost guaranteed snow on its 530 ha area. With a skiable area of ​​70% above 2000 metres, the Arpons sector offers wide runs for beginners and another more challenging part of the area with magnificent red and black runs. Note: wide spaces for off-piste. The scripted Ponsonnière track offers young and old a magnificent descent into the Larch forest to reach the center of the resort.
On the summer side, the Karellis resort offers families a very wide range of activities, in particular the offer of "nature walks" to walk and learn about the mountain ecosystem as well as our heritage.
Teens will be able to enjoy themselves thanks to the shared teen club offering great experiences. For the little ones, many attractions are offered by the holiday villages and by the services of the Tourist Office in the center of the resort. Finally, the pooling of services will make it possible to offer unique events for July 14 and August 15. We offer the rental of mountain bikes, VAE, have a tree climbing, an archery range, a Big Air Bag, a mini farm, Mountain Kart, laser game and of course an opening 4 days a week of the ski lifts to discover the mountain pastures. To give meaning to your holidays, no doubt: at the Karellis we meet there…
See you on January 12, for stage 5 of the 19th edition of La Grande Odyssée VVF 2023 !