3 DEPARTMENTS TO CROSS THE AUVERGNE-RHÔNE-ALPES REGION
Since 2005, the race has been exploring the trails of Savoie and Haute-Savoie. This year, and for the first time in its history, La Grande Odyssée VVF will end in Isère, thus covering all the Alpine territories of the Auvergne-Rhône-Alpes region.
A  race program with an additional race day, that will welcome more than half of the new stage stations. ❄️🏔️
⬇️ Program ⬇️
Opening village in Megève on January 7th
Step 1 : Megève (Haute Savoie)
Step 2 : La Chapelle d'Abondance (Haute Savoie)
Step 3 : Bernex (Haute Savoie)
Step 4 : La Toussuire – Le Corbier (Savoie)
Step 5 : Les Karellis (Savoie)
Step 6 : Aussois (Savoie)
Step 7a : Bessans – Val Cenis Base Polaire (Savoie)
Step 7b : Val Cenis – Lac du Mont-Cenis (Savoie)
Step 8 : Pralognan-la-Vanoise (Savoie)
Step 9 : Valmorel (Savoie)
Step 10 : Col de Porte (Isère)
Step 11 : Villard de Lans (Isère)
➡️ To view the entire program click here.
Every year, La Grande Odyssée VVF offers the region and the resorts it passes through the opportunity to associate themselves with a strong image and values (adventure, authenticity, harmony between man, animal and nature…).
For Laurent Wauquiez, President of the Auvergne-Rhône-Alpes Region : « La Grande Odyssée VVF takes place in Auvergne-Rhône-Alpes, which has become over the years the exceptional stage for an event highlighting landscapes that are among the most grandiose on the planet. In the heart of the Alps, La Grande Odyssée VVF is also an extraordinary sporting competition, a race that highlights the fascinating discipline of mushing. If the sled dog sends us all back to almost magical images, it is also a particularly demanding sport that requires rigor and surpassing oneself. The Auvergne-Rhône-Alpes Region is very proud to become a major partner of this internationally renowned event ».
A HIGH LEVEL INTERNATIONAL COMPETITION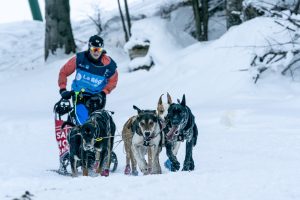 For several years, La Grande Odyssée VVF has been the meeting place for the elite of mid-distance mushers. The best mushers (the discipline is mixed) will be there again in January, starting with the two French champions, Rémy Coste (Open category) and Aurélie Delattre (Limited category). They confirmed their domination this winter by winning respectively the titles of World Champion and Vice World Champion in their respective categories. So, they will be again the big favorites of this 19th edition ! 😍
In the Open category, the Spaniard Iker Ozkoidi, the Norwegian Sissel Wolf Mølmen and the German Alfred Ullrich will be Remy's main opponents. Sissel Wolf Mølmen, who came back to the race last year with a group of young dogs, took a nice fourth place. She comes back in January with other intentions. We will also have to follow the Norwegian Hans Lindhal who participates for the first time and who is one of the best Scandinavian mid-distance teams.
The race promises to be extremely close and full of surprises since this 19th edition will offer 6 new stages that the teams will discover. More than ever, the 2023 program will offer varied stages both in terms of profiles and distances, which should make for a particularly lively and undecided race right up to its end. For the 9th consecutive year, the dogs, true high level athletes, will be followed by a veterinary team equipped with a real field hospital. 🩺
➡️ To consult the complete list of mushers click here.
La Grande Odyssée VVF can't wait for you to discover this new Grandeur Nature Adventure from January 7th to 19th 2023 !